My favorite song♪ in fall 2005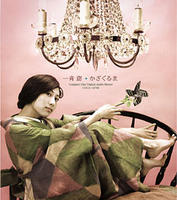 By
the way, today, I would like to talk the music for season. Why we feel like to listen to different kind of music in each season? I wonder. Recently, I love to listen to the song of Hitotoyou ~"Kazaguruma."~ It fits my nowadays feeling very much. It does heal me like the recent great view of sunset. But in summer, I preferred to listen to more powerful and cheerful songs. Like "Smiley" or etc. Why these differences occur? I don't know, but I guess, it may come from the connotation of the song.
Autumn is the season which we feel the temperature getting down day by day. We feel cold! Really different from the hot summer. But if we look up the sky from the narrow window at the staircase, there is a great view of red red sunset. The melody of this song reminds me that kind of things.
Equally, the song like "Smiley" reminds me the sun shower of hot summer vacation and blossom of yellow yellow sunflowers. Each song has the power to show certain images to us. It depends on people, but I like to listen to the songs which I can feel seasons aspect in them. I like to feel season.(*^-^*)

☆More about"kazaguruma."↓★★
I rather like the song's melody than word, and her way of singing. But word is also great! There are many soft-spoken old Japanese words in it, and I like them.
Probably, it is the result of collaboration. Like a movie that we studying now, a song is also the result of collaboration with different elements.